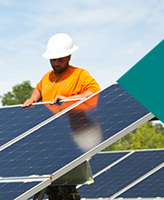 Our Saratoga Springs Project Goes Live in December
New York National Grid customers qualify.
Spots are going fast – sign up today!
Community Solar Projects
It's easier than ever for homeowners, renters, and small business owners to support renewable energy with community solar. Subscribe to a local project supplying renewable energy to your area, and save up to 10% on your monthly energy costs.1
Community Solar Benefits
Community solar is great for the environment, but it also gives residents and small business owners like you a chance to make a difference that you may not have had, working alone. Subscribe to a local project, and you'll save up to 10% on your energy costs each month, too!1
Over 90 million metric tons of carbon dioxide are offset each year by American solar power, and you can be part of it. That's like planting almost 1.5 billion trees!2
With community solar, there's no upfront investment in order to start contributing toward renewable energy use. Now you can do your part.
Nelnet Renewable Energy has several community solar projects with available subscriptions across New York. Learn more about the available projects in your area.
How Does Community Solar Work?
Our developer partners build community solar projects that supply renewable energy to local power grids so that residents and small business owners like you can help support renewable energy use – all without the hassle or expense of installing solar panels.
When you subscribe to a local project that brings renewable energy to you and your neighbors, you start earning solar credits for your subscription that reduce your monthly energy costs by up to 10%.1
Search
Enter your ZIP code and see if there are any available community solar projects near you.
Subscribe
Confirm you're eligible and subscribe to a local project – it's easy to sign up!
Save
When your project starts producing energy, you start saving up to 10% on your monthly energy costs.1
Frequently Asked Questions
Community solar isn't complicated, and it's easy to sign up for – but it may be new to you. We've got answers to commonly asked questions here.
Creating a Smooth Connection to Renewable Energy
Nelnet Renewable Energy partners with community solar developers to help them find subscribers for their projects – residents or small business owners like you who want to use local renewable solar energy but didn't think it was possible. We connect you with a community solar project that delivers renewable energy to your power grid and, once you're a subscriber, work with your utility provider to make sure you receive solar credits that often lead to energy savings. As a Nelnet company, we offer you the same exceptional customer service and streamlined payment processing we've applied to a wide range of markets and industries, including student loan servicing, tuition payment processing and school information systems, and telecommunications.
Sign Up for Community Solar
Are you ready to save up to 10% on your monthly energy costs, all while helping the environment? See if you're eligible to join a community solar project near you. 1