Resource Center
Welcome to our clean energy resource center. We hope you enjoy!
This resource center explains the ins and outs of community solar – but explores other forms of renewable energy, too. Use it to keep track of emerging trends in energy technology, legislation, jobs, and more. Plus, find out how people are making a positive impact on our environment and in our communities. Our goal is to educate, and to inspire support for renewable energy.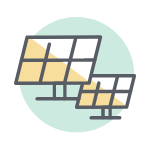 Let's Get Started
To find the right community solar project for you, we'll first need to gather a bit of information.
"*" indicates required fields
Stay in Touch
Sign up for updates and information about community solar.
"*" indicates required fields
By signing up, you'll receive our monthly newsletter and may receive other informational emails. You may choose to unsubscribe at any time.
Let's Chat
If you have questions or need help with the sign-up process, just give us a call. If you prefer to sign up over the phone, we can help with that, too. 844.584.3213