Join Community Solar
We're glad you're interested in community solar. All you need is five minutes and your utility bill to save on energy costs while helping the environment for future generations.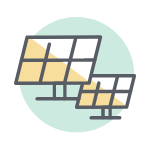 Let's Get Started
To find the right community solar project for you, we'll first need to gather a bit of information.
"*" indicates required fields
Let's Chat
If you have questions or need help with the sign-up process, just give us a call. If you prefer to sign up over the phone, we can help with that, too. 844.584.3213