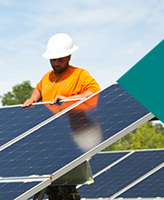 Our Saratoga Springs Project Goes Live in December
New York National Grid customers qualify.
Spots are going fast – sign up today!
Frequently Asked Questions
Community solar isn't complicated, and it's easy to sign up for – but it may be new to you. We've got answers to commonly asked questions here. You can also check out this glossary of terms commonly used in the community solar space.
General
Savings and Billing
Subscription
Enrollment
Environmental Impact
Sign Up for Community Solar
Are you ready to save up to 10% on your monthly energy costs, all while helping the environment? See if you're eligible to join a community solar project near you. 1