It's time to change your perspective on renewable energy.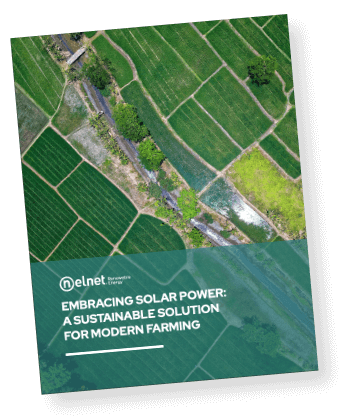 Embrace the Power of Solar
Discover how farmers who go solar can gain independence from their local utility company while predictably budgeting lower energy costs for decades to come.
Download our white paper "Embracing Solar Power: A Sustainable Solution for Modern Farming" to learn more today.
Agriculture and Solar: By the Numbers
Increase in Energy Prices Over the Last 10 Years
With energy as a significant portion of operational expenses in agriculture, the rise and volatility of energy prices in the past decade has been a major challenge.
in Renewable Energy Grants Through 2024
The Rural Energy for America Program (REAP) has allocated over a billion dollars for renewable energy grants to help farms of all sizes and types cover installation costs.
of Solar Project Costs
REAP grants can cover up to 50% of project costs – and local incentives or rebates from local utilities may help further reduce farmers' solar installation costs.
Federal Investment Tax Credit For Solar Installation
The Inflation Reduction Act (IRA) extends this federal tax credit to certain farmers for installing solar. For farmers who don't qualify, other financing mechanisms may help pass along some of these tax credits to them.