Refer Friends and Family – And We All Win
As a community solar subscriber, you save on your energy costs – and help the environment. When you refer others to community solar from Nelnet Renewable Energy, you support the growth of renewable energy and everyone gets rewarded.
Discover How Our Referral Program Works
When you subscribe to one of our community solar projects (also called a farm or garden), you help our environment and support your state in meeting its climate action goals. Plus, you'll save on your energy costs1 without any startup, installation, or maintenance fees. You can do even more good by helping others plug into the benefits of community solar with our referral program.
Refer friends and family members to sign up for one of our community solar projects.
Provide them with the email address on your Nelnet Renewable Energy account, and make sure they include your email in the Promo Code field during sign-up.
There's no limit to the number of friends and family members you can refer.
Not sure your friends and family understand how community solar works and why it benefits them? Read on for how to explain it.
Plug Into™

the Benefits of Community Solar
A community solar project is a collection of solar panels that uses the sun to generate electricity that is distributed through the power grid. If eligible, homeowners, renters, businesses can all sign up to support a portion of the energy generated by the project – and enjoy energy savings.1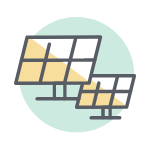 Let's Get Started
To find the right community solar project for you, we'll first need to gather a bit of information.
"*" indicates required fields
Stay in Touch
Sign up for updates and information about community solar.
"*" indicates required fields
By signing up, you'll receive our monthly newsletter and may receive other informational emails. You may choose to unsubscribe at any time.
Let's Chat
If you have questions or need help with the sign-up process, just give us a call. If you prefer to sign up over the phone, we can help with that, too. 844.584.3213