Community Solar in Colorado
Live in Colorado? Explore our community solar gardens and join one to help support clean, renewable energy and your state's bold climate action plan.
Plug Into™

Easy, Clean, Affordable Energy

Nelnet Renewable Energy is proud to bring community solar to Colorado, helping homeowners and renters support Colorado's renewable energy goals. Now you can go solar from anywhere without solar panel installation, startup costs, and maintenance fees – and you'll save on your annual energy costs, too.1
Location:
Fort Collins, CO
Krieger Larimer
Xcel Energy
Location:
Fort Collins, CO
Nearly half of Americans can't install solar panels on their own roof because they rent, find it unaffordable, or have physical barriers.3 With community solar, you don't even need a roof!
Reduction of greenhouse gas pollution by 2030 is the goal for Colorado's bold climate action roadmap.2
Over 127 million metric tons of carbon dioxide are offset each year by American solar power. That's like planting over 2 billion trees!4
There's No Downside to Community Solar
Community solar makes clean, renewable solar energy accessible for anyone fortunate enough to have a nearby project to join. If you have a project available to you, why not take advantage of its many benefits?
Make Our Future Planet Better
If reducing your carbon footprint is important to you, participating in community solar is an easy way to make an important impact. Solar energy reduces greenhouse gases and uses less water than other energy sources, too.
Go Solar Without Installation or Fees
With community solar from Nelnet Renewable Energy, you'll support solar energy use with a flexible contract – and enjoy no startup costs, no installation of panels on your home, and no maintenance or cancellation fees.
Save On Your Annual Energy Bill
With community solar, you'll save up to 10% on your annual energy costs.1 You can see the savings for each project before you sign up. No matter what, you'll never pay more to help support your community with clean, solar energy use.
Frequently Asked Questions
Community solar isn't complicated, and it's easy to sign up for – but it may be new to you. We've got answers to commonly asked questions here.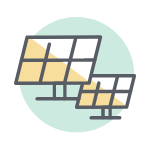 Let's Get Started
To find the right community solar project for you, we'll first need to gather a bit of information.
"*" indicates required fields
Stay in Touch
Sign up for updates and information about community solar.
"*" indicates required fields
By signing up, you'll receive our monthly newsletter and may receive other informational emails. You may choose to unsubscribe at any time.
Let's Chat
If you have questions or need help with the sign-up process, just give us a call. If you prefer to sign up over the phone, we can help with that, too. 844.584.3213