Solarize Homer and Plug Into Business Benefits
Accessing benefits for your business is easy with a solar farm! Save on monthly electricity costs, help the environment, boost sales, retain employees, and more. Plus Get a $200 Amazon.com Gift Card When You Sign Up!*1
*Restrictions apply, see Amazon.com/gc-legal.
Community Solar in Action
You don't have to worry about installing solar panels on your building.

You don't even need to own your building.

You pay no upfront costs, maintenance, or insurance fees.

Get electricity from your utility as usual, but receive solar credits that save you up to 10% on your monthly energy costs.2

When your business receives its first bill credits, it will also receive a $200 Amazon.com Gift Card.*1

*Restrictions apply, see Amazon.com/gc-legal
Plug Into Savings With Community Solar
Community solar offers an easy way for your business to save money on energy costs. With community solar, solar energy is produced off-site at the solar project – so you can participate, whether you lease or own your business space. Unlike traditional rooftop solar, there's no need for solar panel installation costs or hassle – or recouping your investment in solar panels should you change locations.
Here's how you save.
No start-up or maintenance costs, or hidden fees.
Lock in on savings of up to 10% on your monthly energy costs.2

When your business receive its first bill credits, it will also get a $200 Amazon.com Gift Card.*1

*Restrictions apply, see Amazon.com/gc-legal.
Sustainability
Reduce fossil fuel energy usage with a solar farm.
Help fight climate change, reduce pollution, and ease water scarcity.
Measure your environmental impact in your community solar dashboard.
Additional Benefits of Partnering With Us
You can boost your brand and add new revenue by referring your employees and customers to local community solar farms. Receive a referral reward for each person who completes sign-up for community solar using your unique referral code. It's good for them, it's good for you, it's good for Homer – and it's good for the planet.
New Revenue Stream
When you refer your employees and customers to a local community solar project, they save on monthly energy costs, and you gain new revenue.
Help Others Save Money
Your employees or customers who sign up for community solar are guaranteed to save on their monthly energy costs.
Community Support
By encouraging participation in local solar projects, you help Homer progress toward achieving its clean energy goals.
How Partnering With Nelnet Renewable Energy Works
Supporting clean, renewable energy through our creativity, expertise, and resources is what drives us. You too? Let's work together to explore how we can help further sustainability and create value for you and your employees or customers. We'll have your referral program up and running quickly.
No Fees. There's no cost to you or your employees or customers to join community solar projects.
Free Reporting. We'll provide you with a useful quarterly sustainability impact report.
Referral Revenue. Your referral revenue is paid on a quarterly basis. Looking to do even more? You can donate your referral income to a local cause.
Creative Partnership. Let's create value that's meaningful for your organization and its people.
We're happy to discuss how community solar can help address your business challenges, answer your questions, or help you find a community solar project. We look forward to getting your business signed up to help solarize Homer and energize your business.
"*" indicates required fields
About Nelnet Renewable Energy
Nelnet Renewable Energy is a Nelnet brand. Nelnet is a carbon positive, diversified public company established more than 40 years ago – and we've expanded to over 8,500 associates in 30 communities across the country.
We at Nelnet Renewable Energy positively impact our environment through tax equity investments in clean renewable energy and by making renewable energy sources available to residents and businesses through subscription management for solar developers.
We also offer opportunities for solar developers, investors – and those interested in starting tax equity investing – as well as higher education institutions that want to convert to solar power.
1: Nelnet Renewable Energy and its promotions are not affiliated with or sponsored or endorsed by Amazon.com Inc. Gift Cards ("GCs") only redeemable toward eligible goods, services on Amazon.com or its affiliates and cannot be redeemed for purchase of other gift cards. Except as required by law, GCs cannot be reloaded, resold, transferred for value, redeemed for cash, or applied to any other account. To be eligible for this promotion, the potential recipient's business must subscribe to one of these Nelnet Renewable Energy community solar projects: Cortland Virgil Solar, McLean 2 Solar, or Route 13 Solar. The potential recipient's business must use code "SOLARIZEHOMER" when signing up for community solar services at https://subscriber.nelnetenergy.com/residential?referral=SOLARIZEHOMER. If the potential recipient's business becomes a subscriber, the business will receive a $200 Amazon.com Gift Card via email once bill credits begin appearing on the business' monthly electric bill. Limit of one Amazon.com Gift Card per household. This promotion is available until 12/31/22. Additional Restrictions & Terms and Conditions apply. Please visit amazon.com/gc-legal for details.
2: As a community solar subscriber, you can expect to see savings of up to 10% on your electricity costs. For more on how cost savings are determined, see https://nelnetenergy.com/disclaimers/#savings.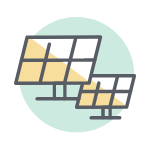 Let's Get Started
To find the right community solar project for you, we'll first need to gather a bit of information.
"*" indicates required fields
Stay in Touch
Sign up for updates and information about community solar.
"*" indicates required fields
By signing up, you'll receive our monthly newsletter and may receive other informational emails. You may choose to unsubscribe at any time.
Let's Chat
If you have questions or need help with the sign-up process, just give us a call. If you prefer to sign up over the phone, we can help with that, too. 844.584.3213