Thank You
Thanks for your interest in community solar.
We are constantly adding new projects across New York. We've put you on our waitlist and we'll notify you as soon as a project becomes available in your area.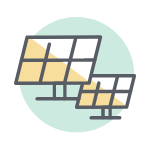 Let's Get Started
To find the right community solar project for you, we'll first need to gather a bit of information.
"*" indicates required fields
Stay in Touch
Sign up for updates and information about community solar.
"*" indicates required fields
By signing up, you'll receive our monthly newsletter and may receive other informational emails. You may choose to unsubscribe at any time.
Let's Chat
If you have questions or need help with the sign-up process, just give us a call. If you prefer to sign up over the phone, we can help with that, too. 844.584.3213