Signing up for community solar is a great way to reduce your carbon footprint and save money at the same time. This list of 20 additional steps will help you make your home, apartment, or business more energy efficient – and save money, too.
Heating and Cooling
Taking preventive measures and changing your everyday habits can save you both energy and money on heating and cooling costs.
Replace or clean filters regularly to maintain good air quality and maximize efficiency.
Close blinds or shades to keep sun out in the warm months, and open them to let the sun help warm your home in colder months.
As a baseline for saving on your energy bills year-round, set your thermostat to 68º F in winter and 78º F in summer.
To make your home or office more comfortable, you can also install a programmable thermostat to adjust the temperature to your schedule.
Use your ceiling fan in warm weather and raise your thermostat a few degrees without sacrificing any comfort.
Keep your house cooler by using dishwashers, washing machines, and dryers at night.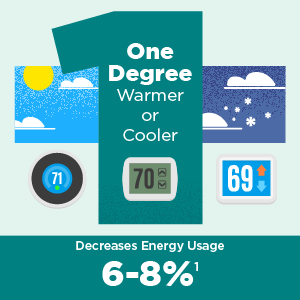 Appliance and Electrical Usage
Being aware of how to use appliances, lights, and electronics devices efficiently is a simple but effective way to save money and help the environment.
Wash clothes in cold water whenever possible.
Turn off the heated dry cycle on your dishwasher except when needed.
Use your microwave instead of your stove and oven to cook more efficiently.
Replace your light bulbs with more efficient light-emitting diodes (LEDs) or compact fluorescent lamps (CFLs).
Keep your refrigerator and freezer well-stocked to help them run more efficiently.
Turn off or unplug any electric-powered thing you aren't using. This rule applies to lights, electronics, chargers, bath and kitchen vents, and more.
Use dimmers, sensors, and timers to limit your use of lights.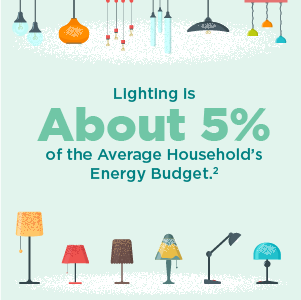 Maintenance and Updates
It's important to maintain your building structure and its appliances to keep everything working smoothly, but this is particularly essential if you have an older home, apartment, or office building. When you make updates, make sure to keep energy efficiency front and center as you make choices.
Sealing cracks, gaps, and leaks – and adding insulation – can save you 10-50% of your heating and cooling costs3. For insulation improvements, target your attic floor and rafters for the greatest impact.
Inspect heating and cooling equipment annually or as recommended by the manufacturer. Consider replacing units that are more than 15 years old with more efficient, updated units.
Save energy by replacing single-pane windows with more energy efficient ones. Those insulated with argon gas between the two panes are best – and it's best to look for those with low-emissivity coating on the glass.
Since your hot water heater uses more energy than most of your home appliances, consider a tankless hot water heater, which is more efficient. It also lasts longer than conventional water heaters.
When you upgrade your HVAC, choose one with a high Energy Star rating that's the right size for your home.
Replace appliances with energy-saving versions such as front-loading washers and dryers, which use less water and dry clothes better.
Add a high-efficiency fireplace insert to your wood-burning fireplace to prevent heated air loss.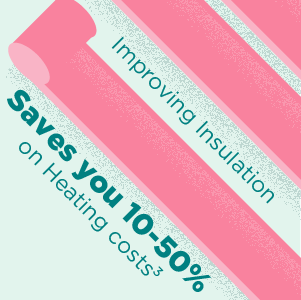 While you can plan for smart, energy efficient choices, you can also create habits that save the environment – and save money, too. An easy choice to make is signing up for community solar. Find a farm near you, and take five minutes to sign up today.
Sources
1 Energy.gov: Thermostats
2 Energy.gov: Save Electricity and Fuel
3 ThisOldHouse.com: 7 Tips for an Energy-Efficient Home