'Tis the season of giving – and one gift that gives all year long is community solar. People who subscribe to community solar save on their energy costs1 while they give back to our environment.
More People, More Power With the Gift of Community Solar
It's easy to estimate your environmental impact. If you're part of a single household subscribing to community solar, you can estimate your impact on the environment in terms of greenhouse gas emissions avoided. We like to use the U.S. Environmental Protection Agency's Greenhouse Gas Equivalencies Calculator.2 It converts your energy data into emissions data that you can understand in everyday terms – for example, miles driven by an average gas-powered passenger vehicle or gallons of gasoline consumed.
The average annual electricity consumption for American households is 10,715 kilowatt-hours (kWh).3 Entering that energy data in the Amount field for Kilowatt-hours avoided, the average household's community solar participation reduces greenhouse gas emissions similar to removing the average gas-powered vehicle from the road for 18,849 miles. Imagine if that resident referred just five – or even 10 – of their family and friends to community solar .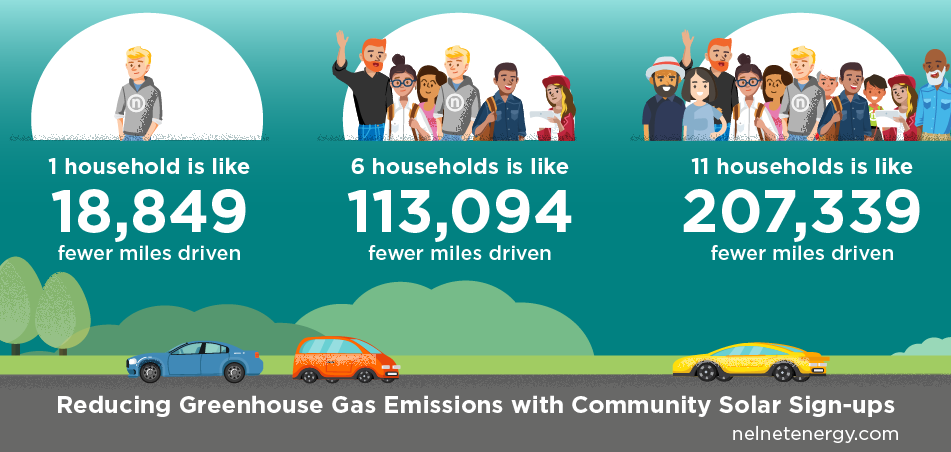 1 household is like 18,849 fewer miles driven.
6 households is like 113,094 fewer miles driven.
11 households is like 207,339 fewer miles driven.
Now we can each start to realize an even greater impact on our carbon footprint and our world because we're influencing others, too.
A Gift to Others and Our Future
Community solar is the hot gift item that many people don't know about yet.
Referring your friends and family to community solar helps them save money on energy costs – not just this year, but throughout their participation. There are very few long-lasting gifts you can give that will also give back to the environment for years to come.
Our community solar referral program earns rewards for Nelnet Renewable Energy subscribers and their friends and family who subscribe. Best of all, you're helping to create a larger environmental impact that lasts long into the future.
Learn More
During this season of giving, explore how the Nelnet Renewable Energy referral program works in your state – and then do us all some good by starting to share the gift of community solar.