If you're a business owner looking for a simple way to boost your business, signing up for community solar is one of the quickest, easiest, and most impactful things you can do. Here are nine reasons why.
1. Save money on energy costs.
Community solar participants save on electric bills – all with no installation, start-up costs, insurance, or maintenance fees. Just enjoy guaranteed savings on one of your higher overhead costs. Depending on your program and state, savings will vary. In some states, community solar participants can enjoy savings of up to 15%, but a more typical savings for participants is up to 10% on electric bills.4
2. Help benefit the environment.
Signing up for community solar helps conserve limited natural resources and combat global warming. Plus, you can rest easy knowing that the electricity produced by solar energy has no negative impact to the environment.
3. Create trust and improve your image.
Consumers and employees increasingly decide where to shop and work based on a company's corporate social responsibility (CSR). The Cone Communications study revealed that CSR impacts brand image, loyalty, and trust among American consumers.
4. Boost sales.
Social and environmental benefits matter to consumers. In one study, 68% of millennials bought a product with a social or environmental benefit in the prior 12 months – and 87% of all those surveyed would buy a product with a social and environmental benefit if given the opportunity.1 A Harvard field experiment found sales increased by 8% among female shoppers in retail stores when Gap Inc. jeans included a label describing a program used to decrease water pollution in laundering denim as part of the manufacturing process.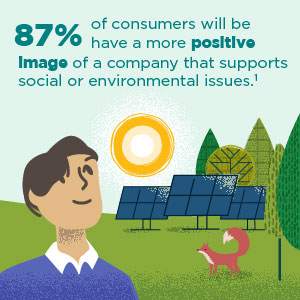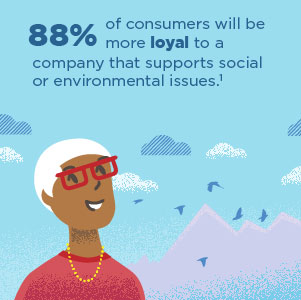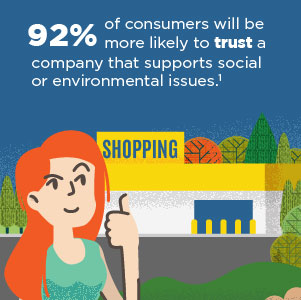 5. Gain a recruiting edge over competitors, particularly for millennial and Gen Z job candidates.
Suppose your business needs new graduates or employees with fewer years of experience. In that case, you'll be interested to know research showed 64% of millennials are willing to turn down a job if the hiring company lacks strong CSR.1
6. Build trust, loyalty, and job satisfaction among employees, boosting retention.
A great brand story not only helps you snag the best candidates, but it can also help you keep them – particularly if you offer opportunities for them to make a positive impact. While 70% of U.S. workers would be loyal to a company that makes it possible for them to contribute to social and environmental issues, 83% of millennials express loyalty to employers that do so. In addition, 88% of those surveyed stated having opportunities on the job to make a positive social and environmental impact increased job fulfillment.1
7. Increase employee productivity.
A study by UCLA and the University of Paris-Dauphine found environmentally friendly companies enjoyed greater productivity, with employees at these companies 16% more productive.3 The increased productivity was attributed to employees forming more interpersonal relationships, receiving better training, and being more motivated.
8. Enjoy a win-win opportunity to offer valuable savings as a benefit to customers and employees.
Business owners should consider referral partnerships available with community solar, too. When you're a referral partner with Nelnet Renewable Energy, your business benefits from having a new revenue source, which you can even opt to donate to a favorite cause. The larger picture, though, is that you're referring your customers and employees to community solar, helping them save money on their residential energy bills – and further helping the environment. It benefits all of us.
9. Be part of a ripple effect of community good.
The brand story you tell is only as good as the actions you take to support it. When your customers, employees, and neighbors in the community see you adopting an environmentally friendly behavior – like supporting renewable energy – it makes them more conscious of their behaviors, too. This is how real change happens.
Sign up for community solar, learn about partnership opportunities, and start achieving positive results in multiple areas for your business. Contact us today.