Wagner
Wagner is a large community solar garden sitting in the South Platte River Basin directly north of Sterling off of County Road 41. This solar garden generates enough solar energy to offset 8,489 metric tons of carbon dioxide! By signing up, you're helping the state of Colorado meet its climate action goals and creating a better future for Pawnee National Grassland to the west and Prewitt Reservoir State Wildlife Area to the south. Plus, you're also saving up to 10% on your annual energy costs.1
This coverage map includes approximate coverage areas available to participate in this project.
Location:
15761 County Rd 41
Sterling, CO 80751
Production:
11,978,161 kWh
Developer:
Green Street Power Partners
Expected Live Date:
01/2023
Green Street Power Partners
Green Street Power Partners (GSPP) is a national developer, financier, owner, and operator of solar energy systems benefiting residents and businesses from communities all across the country. Through our 38 fully subscribed community solar projects in New York, Massachusetts, and Minnesota and over 50 additional projects under development in New York and Colorado, we're thrilled to expand community solar program access and savings to thousands of homes and businesses. GSPP strives to continue this growth while staying committed to corporate social responsibility and helping improve the quality of life for everyone as we sustain our environment for future generations through solar power. We view this responsibility as a fundamental part of our business, and we consistently strive to inspire these values in our employees, partners, and customers.
Cloudbreak Energy
Cloudbreak Energy is a Colorado-based developer focused on accelerating the renewable energy economy via the development of distributed, community, and utility-scale solar and storage projects across the U.S. Our founding team has been working together in the solar industry since 2017 and has executed over $300 million in commercial and community solar transactions while helping thousands of individuals and organizations to benefit from solar energy. Cloudbreak builds strong, lasting relationships with the landowners, development partners, and communities in which we operate and utilizes proprietary software and leading solar technology to efficiently develop and construct sound renewable energy assets. One of the fastest-growing renewable energy developers in the Mountain West, Cloudbreak is actively developing over 300 megawatts of solar projects across the country.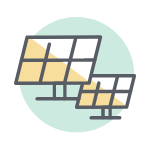 Let's Get Started
To find the right community solar project for you, we'll first need to gather a bit of information.
"*" indicates required fields
Stay in Touch
Sign up for updates and information about community solar.
"*" indicates required fields
By signing up, you'll receive our monthly newsletter and may receive other informational emails. You may choose to unsubscribe at any time.
Let's Chat
If you have questions or need help with the sign-up process, just give us a call. If you prefer to sign up over the phone, we can help with that, too. 844.584.3213