Hylan Plaza
Join this rooftop community solar farm located in Hylan Plaza, just a couple of blocks from New Dorp Beach in Staten Island. Whether the weather's good for catching rays at the beach or not, you can always benefit from the power of the sun with the Hylan Plaza solar farm. All you need to do is sign up, and you'll save up to 10% on your monthly energy costs.1 Signing up for community solar also reduces your carbon footprint, helping you be part of making the planet healthier. But don't wait to sign up – spots are limited. All it takes is five minutes. Reserve your spot today! Only available for Con Edison customers.
This coverage map includes approximate coverage areas available to participate in this project.
Location:
2600 Hylan Blvd
Staten Island, NY 10306
Developer:
Green Street Power Partners
Expected Live Date:
01/2023
On average, people who participate in community solar programs save up to 10% on their monthly energy costs.1 You can, too.
Over 127 million metric tons of carbon dioxide are offset each year by American solar power, and you can be part of it. That's like planting almost 2 billion trees!2
Green Street Power Partners
Green Street Power Partners (GSPP) is a national developer, financier, owner, and operator of solar energy systems benefiting residents and businesses from communities all across the country. Through our 38 fully subscribed community solar projects in New York, Massachusetts, and Minnesota and over 50 additional projects under development in New York and Colorado, we're thrilled to expand community solar program access and savings to thousands of homes and businesses. GSPP strives to continue this growth while staying committed to corporate social responsibility and helping improve the quality of life for everyone as we sustain our environment for future generations through solar power. We view this responsibility as a fundamental part of our business, and we consistently strive to inspire these values in our employees, partners, and customers.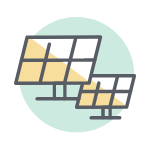 Let's Get Started
To find the right community solar project for you, we'll first need to gather a bit of information.
"*" indicates required fields
Stay in Touch
Sign up for updates and information about community solar.
"*" indicates required fields
By signing up, you'll receive our monthly newsletter and may receive other informational emails. You may choose to unsubscribe at any time.
Let's Chat
If you have questions or need help with the sign-up process, just give us a call. If you prefer to sign up over the phone, we can help with that, too. 844.584.3213