How Dual Billing Works
Learn how dual billing works for community solar projects with Nelnet Renewable Energy – and discover how it helps you save on your energy costs.
While there are no upfront costs for community solar, there is a billing process. Many states mandate that subscribers to community solar receive two separate bills: one from the utility delivering energy from the community solar project and another from the community solar provider.
While some community solar projects require two bills, people who sign up for community solar projects with Nelnet Renewable Energy still save on their overall energy costs. Here's how the process works.
Simple Sign-Up Process
When you sign up, you provide payment information with your bank account or a preferred credit card. Electronic payment with auto pay is the most convenient way to be sure you're set for the process – and the savings – to begin.
Utility Bill Without Solar Credits
With community solar sign-up, you continue to receive your energy from your current utility provider – and you receive your utility bill just as you do today.
Utility Bill With Solar Credits
About 45-60 days after clean energy begins flowing from your solar project, you'll start receiving solar credits for your portion of the energy produced. Those credits are applied directly to your utility bill.
Solar Subscription Bill
You'll be charged for your monthly solar subscription – but not until after your first solar credits appear on your utility bill. Charges will appear as "Nelnet Energy" on your bank or credit card statement.
You'll find you pay less on your annual energy costs with dual billed community solar than you do now.
Sample Nelnet Renewable Energy Solar Subscription Bill

What does a community solar subscription bill look like?
Your community solar subscription bill displays your solar project name, account information, your project's total energy production, and your allocation of the project's energy. The bill will also clearly display the percentage discount on your utility credit rate and your charges, solar credits, and savings.
Once your first solar credits appear on your monthly utility bill, you'll receive your first monthly community solar subscription bill via email from Nelnet Renewable Energy. Your payment is due within 20 days of receipt of the applicable community solar subscription bill. Even if you've set up auto pay to make the billing process seamless, you'll still receive a monthly bill via email that shows your credits and savings.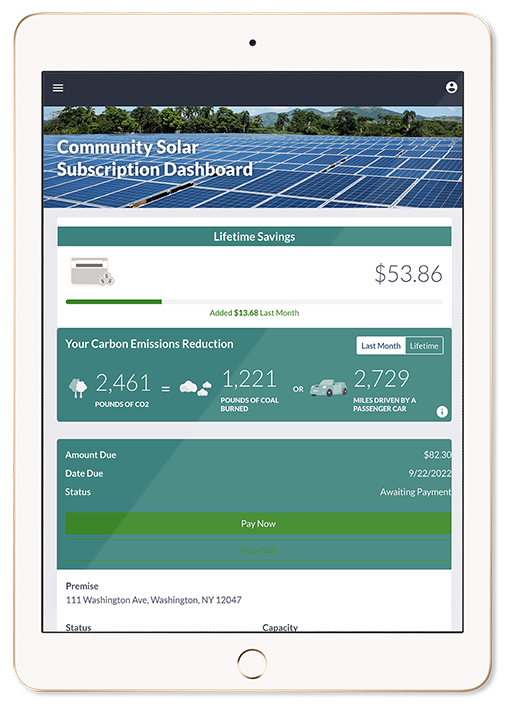 Where do I find billing and savings information?
Your emailed monthly bills provide billing and savings information, but your account dashboard will provide additional historical information about your bill payments, credits, and savings when you log in to your Nelnet Renewable Energy account. This is an account dashboard example; the appearance and data will vary.
Your account dashboard is also a handy place to see the environmental impact of your participation in community solar – which pays off for all of us.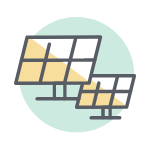 Let's Get Started
To find the right community solar project for you, we'll first need to gather a bit of information.
"*" indicates required fields
Stay in Touch
Sign up for updates and information about community solar.
"*" indicates required fields
By signing up, you'll receive our monthly newsletter and may receive other informational emails. You may choose to unsubscribe at any time.
Let's Chat
If you have questions or need help with the sign-up process, just give us a call. If you prefer to sign up over the phone, we can help with that, too. 844.584.3213