Glossary of Terms
Alternating Current (AC) Power: A type of electrical current whose magnitude and direction varies at regular cycles. In the United States, the standard is 60 cycles per second.
Bill Crediting: In a community solar model, shares in the community solar array are credited to individual subscribers' utility bills at a determined rate. The credits may appear as kilowatt hours or they may be a dollar value. The end result is that these credits reduce subscribers' electric bills.
Community Solar: Also known as shared solar or community shared solar. Under a community solar model, multiple subscribers invest in one or more solar panels or kW capacity in a centralized array. These subscribers receive financial benefits (credit on their utility bills, cash payments, etc.) from the solar energy production.
Direct Current (DC) Power: An electrical current whose magnitude and direction stay constant. The photovoltaic cells on solar panels capture energy from sunlight and create DC which must be converted to AC power for use in grid-connected applications.
Developer (Solar Developer): The entity that facilitates the design and build of the solar array, or collection of solar panels. Developers may identify and analyze sites, build financial models, secure funding, and sign up customers. Developers may hire sub-contractors or provide services internally for engineering, installation, or other aspects of the solar development process. They may hire an experienced service provider to educate potential subscribers about their projects and provide ongoing management services, including customer service, billing, and payment processing.
Distributed Generation (DG): Power-generating systems located at or near the point of energy consumption. Contrast this with centralized generation, which refers to large scale power plants providing power for a large number of users.
Energy: Energy is measured in kilowatt-hours (kWhs) or megawatt-hours (MWhs). The amount of energy produced by a solar project is measured in kWhs.
Grid: The infrastructure of power lines, transformers, and substations that delivers electric power to consumers. The utility grid is owned and managed by electric utility companies.
Production: Used to describe how many kilowatt-hours or how much energy is produced by the solar project.
Subscription: A subscription refers to the capacity that any one subscriber is allocated in a solar project. The subscription is measured in kW and produces energy (kWh) each month. The utility recognizes each subscription's production and multiplies the kWh by the bill credit rate, giving each subscriber solar bill credits toward their utility bill.
Solar Credits: Solar credits are monies given to the subscriber from the utility for the electricity production from their subscription capacity. The solar credits are often calculated by the subscription's production (kWh) and the bill credit rate set by the utility.
Solar Energy: Electromagnetic energy transmitted from the sun (solar radiation). The amount that reaches the earth is equal to one billionth of total solar energy generated, or the equivalent of about 420 trillion kilowatt-hours.
Solar Project: An installation or area of land in which a large number of solar panels are set up to generate renewable electricity. In addition to being built on the ground, solar projects can be installed on building rooftops, carports, or a combination of these. Solar projects are also referred to as "solar farms" or "solar gardens".
Subscriber: In a community solar model, the subscriber pays a monthly fee to the project developer and receives a credit for a portion of the community solar array output. Subscribers can be individual households, businesses, or institutions, depending on the project and program rules.
Virtual Net Metering (VNM): A billing arrangement for community solar that allows more than one customer (usually many) to receive bill credits for the energy production of a shared solar array. It refers to when solar is not used on-site but is instead externally installed and shared among subscribers.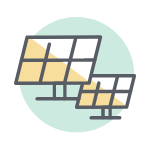 Let's Get Started
To find the right community solar project for you, we'll first need to gather a bit of information.
"*" indicates required fields
Stay in Touch
Sign up for updates and information about community solar.
"*" indicates required fields
By signing up, you'll receive our monthly newsletter and may receive other informational emails. You may choose to unsubscribe at any time.
Let's Chat
If you have questions or need help with the sign-up process, just give us a call. If you prefer to sign up over the phone, we can help with that, too. 844.584.3213