Don't Whiff on This Deal (or Your Next Shot)
Sign up for community solar and you'll receive a $50 gift certificate to The Greens at Beaumont1 – plus you'll save on your monthly energy costs.
With community solar, you'll:
Work with your same utility provider – and save up to 10% on your National Grid costs.2
Enjoy clean, renewable energy without start-up costs or maintenance fees.
Get $50 to spend as you wish at The Greens at Beaumont.1
We know you're busy. Provide your name and email below, and we'll send you details about community solar and our five-minute sign-up process.
1 The potential recipient of this gift certificate must become a subscriber of a Nelnet Renewable Energy community solar project. The potential recipient must use code "BEAUMONT" when signing up for community solar services at NelnetEnergy.com/beaumont-golf. If the potential recipient becomes a subscriber, they will receive a $50 gift certificate to The Greens at Beaumont via email once they begin receiving bill credits. To redeem their gift certificate at The Greens at Beaumont, 9113 Brewerton Rd, Brewerton, NY 13029, recipients must show their emailed gift certificate at the pro shop front desk. Questions about redeeming this gift certificate may be directed to 315.699.5338. Limit of one gift certificate to The Greens at Beaumont per household. This promotion is available until 12/31/22. Additional Restrictions & Terms and Conditions apply.
2 As a community solar subscriber, your subscription charge (if any), solar credits, and resulting savings on monthly energy costs will vary depending on the state program or specific solar project. Your cost savings is dependent on your energy usage and the portion of the community solar project allocation you receive. Your individual solar project allocation would be determined using your current monthly energy usage with your existing utility company. People who subscribe to a community solar project in New York can save up to 10% on their monthly energy costs.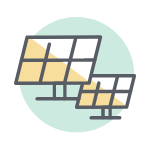 Let's Get Started
To find the right community solar project for you, we'll first need to gather a bit of information.
"*" indicates required fields
Stay in Touch
Sign up for updates and information about community solar.
"*" indicates required fields
By signing up, you'll receive our monthly newsletter and may receive other informational emails. You may choose to unsubscribe at any time.
Let's Chat
If you have questions or need help with the sign-up process, just give us a call. If you prefer to sign up over the phone, we can help with that, too. 844.584.3213